NATURAL MAGNESIUM SUPPLEMENT
Zen Natural helps increase your magnesium intake with high-quality sources of magnesium chelate and di-magnesium malate. Zen Natural provides 400mg of Magnesium per serving.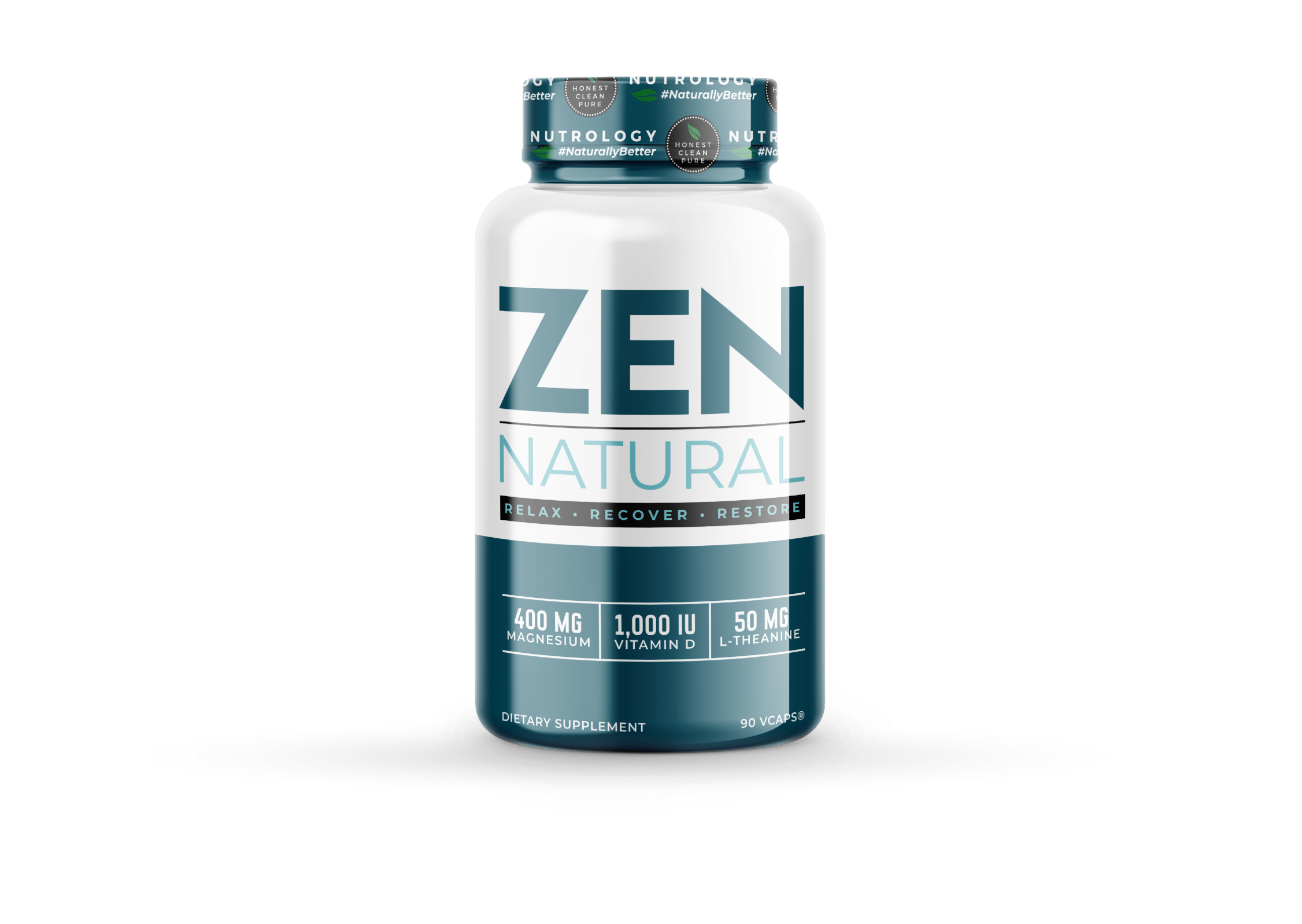 Why Choose Zen Natural Magnesium Supplement?
Chelated Magnesium and Theanine help support healthy blood pressure and nervous system function*
Magnesium plays a key role in relaxing muscles for better sleep quality*
Magnesium can help counter the effects of excess caffeine and stimulant consumption*
Restore healthy calcium-magnesium levels for proper muscle function*
Though once abundant in plant and animal sources, most foods today are overly processed, removing most of the nutritional content. Americans are simply not getting enough magnesium from the foods they consume. In fact, 80% of the U.S. population is magnesium deficient. On average, consumers are receiving about 175-225mg of magnesium a day when the Recommended Dietary Allowance (RDA) for magnesium is 400-420mg per day for men, and 310-320mg per day for women.
Consider supplementing your magnesium intake through a high quality magnesium chelate such as Nutrology's Zen Natural with di-magnesium malate. It provides you with twice as much, elemental magnesium per serving as compared to other forms. The malate compound also makes it that much easier for your body to absorb the magnesium.
As an athlete, you may have consumed pre-workout supplements that included caffeine. But did you know that this can impact your adrenal levels?
As an ideal supplement for athletic competitors, the effects of magnesium are evident. With improved recovery, reduced stress, less fatigue, and diminished cramping, you'll be on your way to better performances and reduced risk of injury.*
In today's on-the-go lifestyle that includes fast-food runs and high stress in the workplace, Americans are feeling the effects of magnesium deficiency. Anxiety, hypertension, adrenal fatigue, poor sleep and muscle cramping can all be signs that you may be deficient in magnesium.
Natural Magnesium Supplement
According to the Office of Dietary Supplements, magnesium is responsible for more than 300 biochemical reactions in the body.This includes ATP (energy) production, building proteins for new cells, transmitting nerve signals, relaxing muscles, maintaining healthy blood pressure and promoting restful sleep. Imagine all these amazing benefits you'll receive with sufficient levels of magnesium. You'll experience more energy, better rest, reduced muscle aches, and less stress!*
Count 3 capsules of ZEN NATURAL.
Take ZEN NATURAL with 10 oz. of water.
ZEN NATURAL should be taken in the evening.
WHAT OUR CUSTOMERS SAY ABOUT ZEN NATURAL
This product has made it possible to stop taking a prescription sleep aid that I have been on for years. I sleep better, wake up easily and have no grogginess like on prescriptions. My quality of sleep and quantity of sleep have both improved. I highly recommend anyone to try this.

I LOVE THIS PRODUCT! I never had problems sleeping before the last year! I did not want to take a drug as a doctor advised! I tried this and I was hooked! I bought a bottle for all my friends! Best sleep of my life with no morning grogginess!

I suffered with major muscle cramps in my legs due to medication taken to fight my cancer. This product has given me significant relief from cramping! It's great!

3RD PARTY TESTED FOR PURITY
EASY TO READ ITEMIZED LABELS
LOW HEAVY METALS VERIFIED
ATHLOCK - BANNED SUBSTANCE FREE*
NO ARTIFICIAL COLORS, FLAVORS OR SWEETENERS
*These statements have not been evaluated by the Food & Drug Administration. This product is not intended to diagnose, treat, cure or prevent any disease.